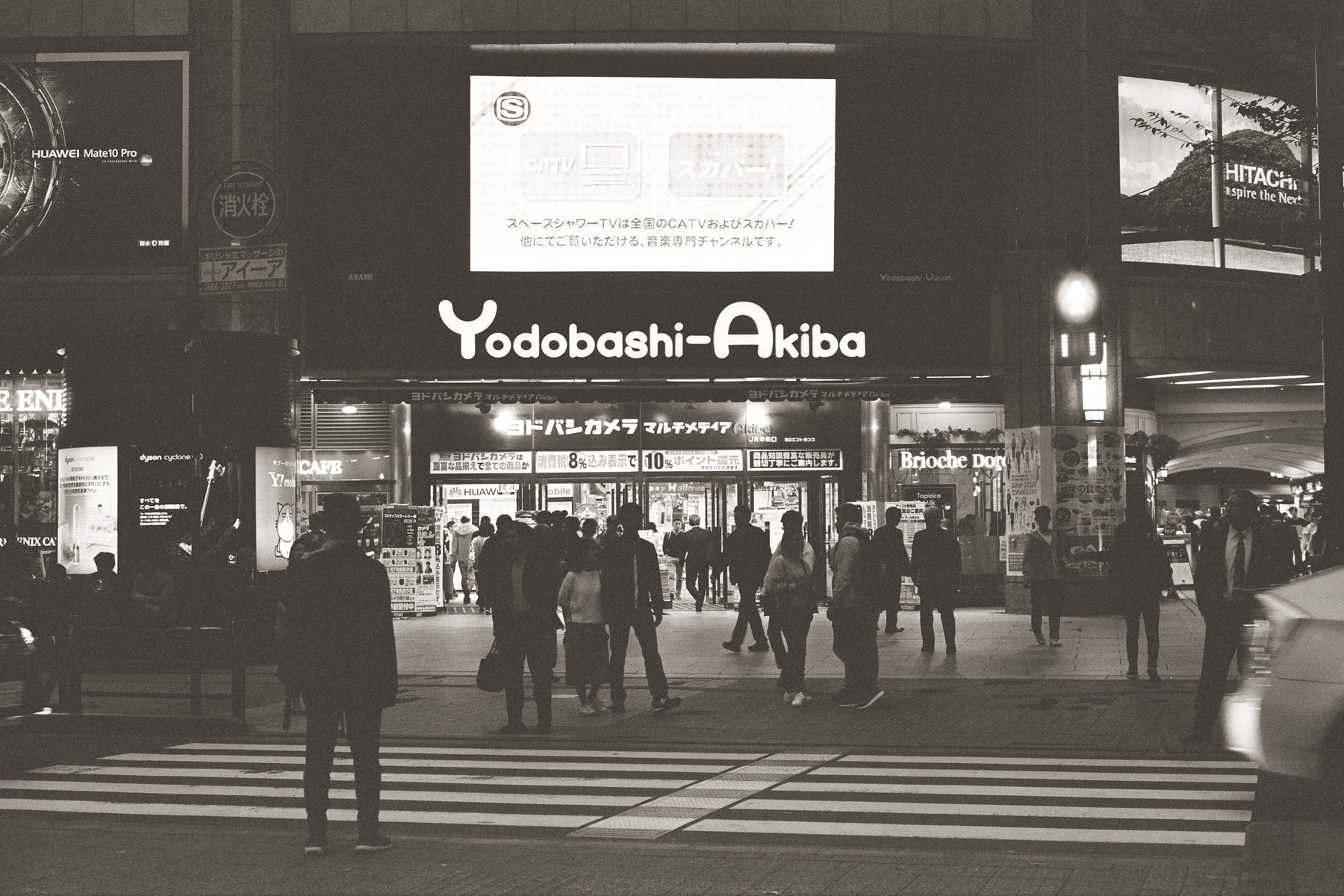 Camera shopping in Japan (Ginza)
First off: Bellamy Hunt, AKA the Japan Camera Hunter has got a great blog on camera hunting in Japan and if you're serious about going, then I'd start by checking out his links to camera stores. He has an extensive guide to many of the Tokyo area shops here.
Now, that out of the way - let me tell you about my most recent trip to the massive sensory overload of a city, that is Tokyo, Japan.
Displays showing individual photos taken with the lens on sale were a great way to display them, found inside a department store in Tokyo.
I realized quickly that I don't speak enough Japanese. I know a few pleasantries like good morning, please, thank you and generally how to conduct myself among others, but that's about it. When traveling abroad, many visitors just don't understand other cultures. I highly encourage you to study some basics first. Most notably the practice of trying your best not to offend others. In Japan that means at the very least, a smile and a 'Konniciwa' (hello) upon entry, a courteous bow when leaving, along with a sincere respect for the person behind the counter. Just conduct yourself in a respectful manner and you'll be fine.
That being said, there are great camera shops here, great people and occasionally, a few bargains to be had. One of the nice things about shopping in Japan as a foreigner, you are allowed a tax break, which is currently around 8%. If you ask kindly if the item is tax free for foreigners, you will likely see that price drop ever so slightly. This may be the only break you get, and is usually reserved for purchases over the $200 mark. It's worth noting here that in my understanding of Japanese culture, it's seen as rude to offer less than marked price on an item. I've done a little feeling around on this topic and it just depends on the seller. I'd say that most don't want to bargain, while the occasional seller may bargain within around 10% of the marked price. Cash tends to be no better than credit in my experience, and often using your credit card is preferable to cash, since you get a better exchange rate.
Camera shopping in Japan. Photo by Ken R. taken with the Mamiya 7II on Lomography 400f2 Film
Many of the higher end shops in Ginza are firm on prices. They see so much traffic in a day that the items they sell are priced accordingly. Also they likely pay very high rent to be in the direct line of tourists. Tax free may be the best you can negotiate. Shops around Akihabara and smaller shops in the area may have a little room for bargaining, and I'll get to those shops in Part 2 of the article.
I'll only cover the shops that I visited on this trip. For others, follow Bellamy's guide (linked above)
Ginza:
Nikon House -  The first shop you see when leaving the train stop exit. A corner store with wrap around windows and glass shelves full of everything Nikon had to offer from 1999 and before. Unlike in the past, there are other brands here now, and I noticed a few Canon FD lenses and even a 5DII in the window. There are rangefinders inside the shop, including the odd Leica, Leotax and Canon. Lots of lenses, and if you're looking for a specific Nikon lens (or even some older japan made glass) it's likely in this shop. I never had the chance to speak to the clerk behind the counter. He seemed too busy to notice me looking around. I couldn't decide on anything in particular so I didn't bother him.
Sukiya Camera - a great little shop a couple of blocks behind the Nikon House Ginza corner store. Here you will find Leicas, Hasselblad, higher end point and shoots like the Contax T2 and T3 line and a decent selection of M mount lenses, earlier rangefinder collectibles and an occasional folding camera or modern 35mm SLR. The staff here was nice, and carried on a good conversation with me in English, which was a relief. I was able to get the tax-off rate and I came back to his shop twice and bought good cameras. They seem to price their stuff right - if just a hair under high market, which is a rarity in Ginza.  Your respect and kindness here is returned. Highly recommended shop.
You'll find stocked shelves at Sukiya camera in Ginza, Tokyo.
Katsumodo (aka the Harrods of Cameras) - This place has some amazing eye candy in the windows that wrap the store. You should spend a few minutes here checking out all of the pretty cameras that are displayed. There are new cameras in boxes, rare Nikon, Canon, Leica and others proudly on show for the passing public. Their prices are high, though they are friendly to foreigners and will happily sit you down at their counter and let you have a look at an item. I didn't try to bargain on a camera here, but I did buy one - a lovely little Nikon 35ti, and I got it tax free upon presenting my passport to the clerk.
There were many others on display that made me want to look further, but prices being as they were, I left to seek out other deals in shops more off the beaten path.
Lemon Camera (Lemonsha) - Epic little shop, full of good and bad. Word among camera shoppers in Tokyo is that they don't test their cameras here. It's nearly all consignment. Try out whatever you're interested in at the counter before you buy it. There are no returns. That being said, there are some good cameras here and a lot of eye candy. Check them out for sure. They open at 10AM and there's usually a small line to get in. There are Leicas, Hasselblads, Nikons, Canons and the unusual all on display and available for a price. Mostly higher market price, but you may be able to find a bargain on something. There are unusual custom cameras and a wide variety of film and digital models on display. Also - model trains, fountain pens and watches - but again... watch for fakes and problem cameras!!!! Remember... no returns. I passed on a medium format camera here because I couldn't get the shutter to work properly.
That's the end of Part 1 - I'll pick up on the rest of the article soon. Thanks for reading :-)
Part 2 - Akihabara ...